Maker Faire celebrated its 11th anniversary last weekend at the San Mateo Event Center in San Mateo, CA. Billed as the "Greatest Show (& Tell) on Earth" the event certainly lived up to its reputation. There were IoT devices, 3D printers, drones, robots, live music and a plethora of whimsical projects and experiments. With 150,000 visitors and thousands of exhibitors, I did my best to take in as much of the faire as possible. Here were some of my highlights.
State of Arduino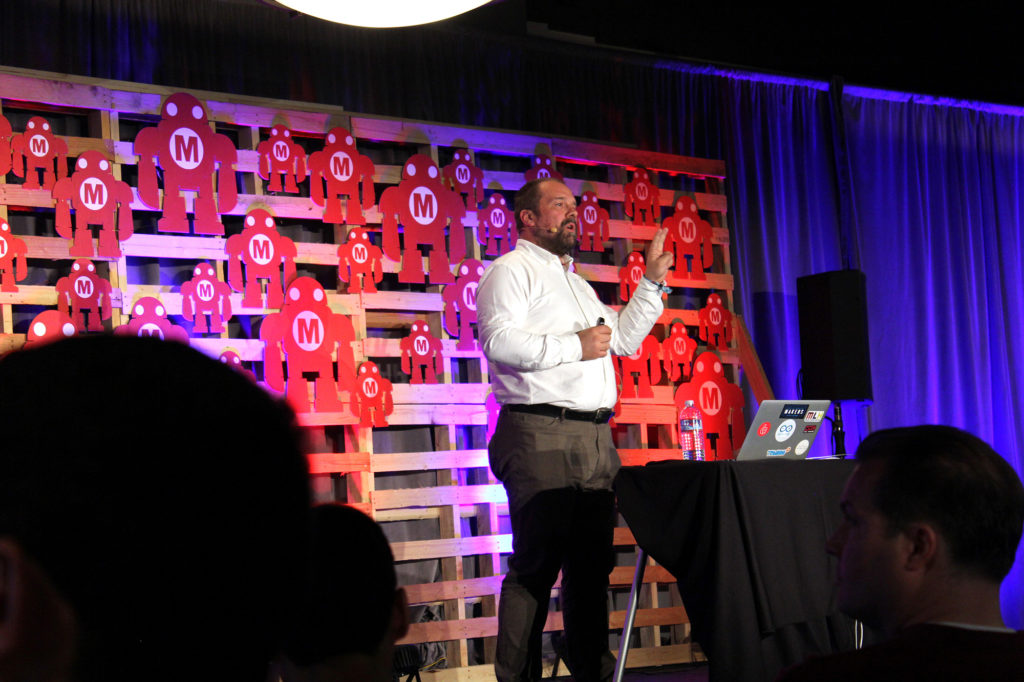 Massimo Banzi, co-founder of Arduino, announced Arduino Create during his "State of Arduino" talk on Saturday. The web-based platform includes a new web editor (IDE) and the Arduino Cloud (powered by Amazon) allows your Sketchbooks to be accessed from any device. I just received my beta credentials and have begun exploring the platform. More to come. The Arduino community continues to grow. Banzi reported that Arduino.cc had 25 million unique visitors and 100 million visits from May 2015 to May 2016. Before finishing his talk, Banzi left the standing room only crowd with a few words of wisdom, "Be cool – Don't be an a****le." Words to live by for sure.
Adam Savage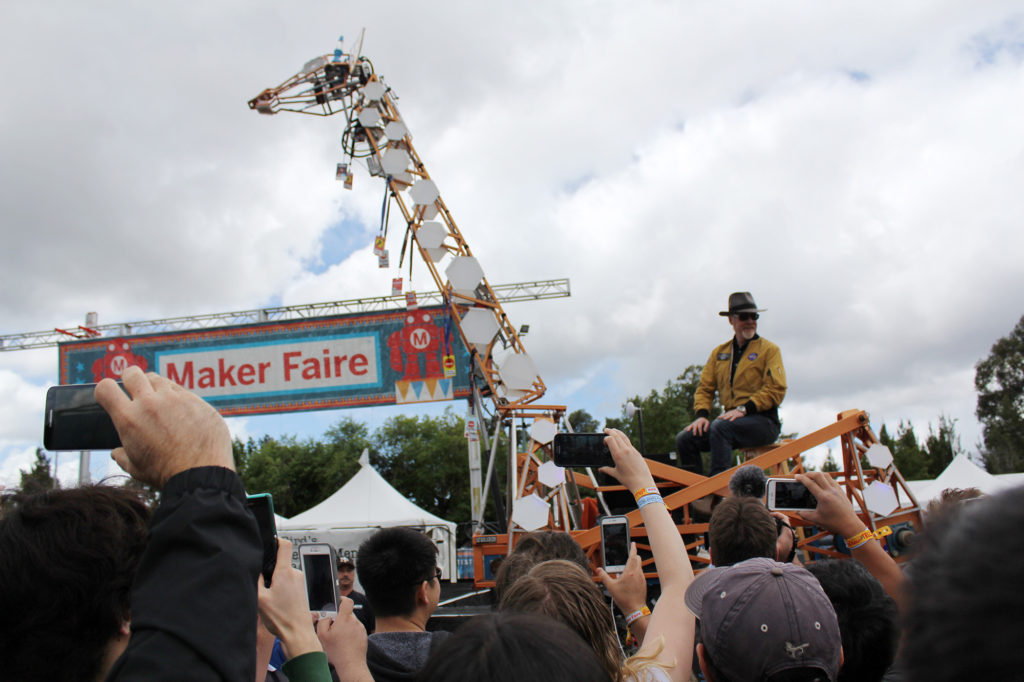 On Sunday, Maker Faire favorite Adam Savage gave an inspirational speech about the trials and tribulations of being a maker. Savage made an epic entrance riding to the stage standing on top of Russell, a massive electric giraffe. Savage is passionate about alleviating the opportunity divide and empowering kids to become makers. "When a kid realizes that they can reach out and alter something and make it a little bit better, they've made their sphere a little better but what really happens in the mental process, they've actually made the world a little bit better," said Savage.
Savage was incredibly generous with his time and participated in a lengthy Q and A session with audience. I initially thought a Q and A session with a large outdoor audience and without microphones would have been a complete disaster. However, it was surprisingly delightful. Savage told numerous stories about his time on the popular television show MythBusters, discussed his website Tested and discussed the successes and failures he has experienced in his life. He even put an end to the old debate, "Star Wars or Star Trek?" Of course the answer was Star Wars (as if there was ever any doubt).
Drone Racing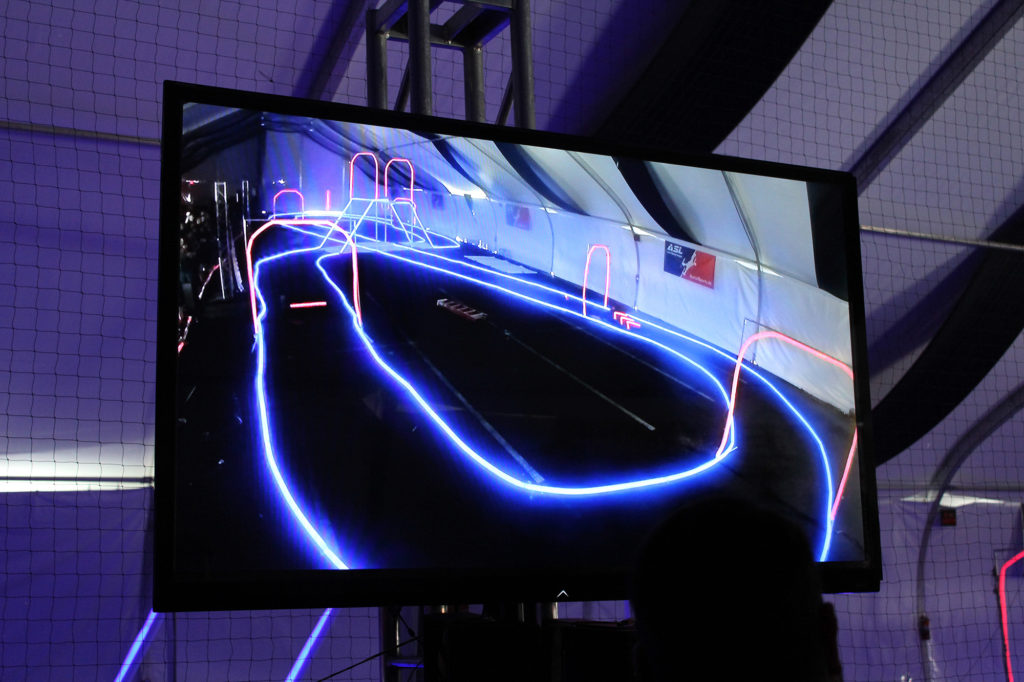 Drone technology has grown increasingly sophisticated since I purchased the original DJI Phantom 1 a few years ago. Drones are a valuable tool in the real estate industry. They have the ability to capture a unique perspective of a property that cannot be photographed by traditional aircraft. There were a lot of drones on display at Maker Faire and 'drone racing' was one of my favorite exhibitions of the weekend.
An indoor obstacle course was constructed allowing pilots to compete throughout the event. The course was quite challenging and made for some pretty dramatic crashes. The track was equipped with cameras and large HD displays were mounted around the course for viewing. Just being a spectator was a ton of fun.
Connected Homes Devices
I asked Dale Dougherty, the founder of MAKE magazine and creator of Maker Faire, how connected homes devices and the Internet of Things (IoT) were impacting the real estate industry.
"There could be 50 billion devices by 2025," Dougherty told me. "Who's going to create them? Apple and Google will certainly create their share. However, I believe makers are going to create a lot and that's going to empower individuals to do more. The maker movement enables you to do something yourself and solve a problem that is important to you. It's like adding a deck to your house, it adds value to your life. Connected devices offer a way for normal people to add value."
There was a ton of technology in the real estate space at Maker Faire. Here are some products and projects that caught my attention:
1: C by GE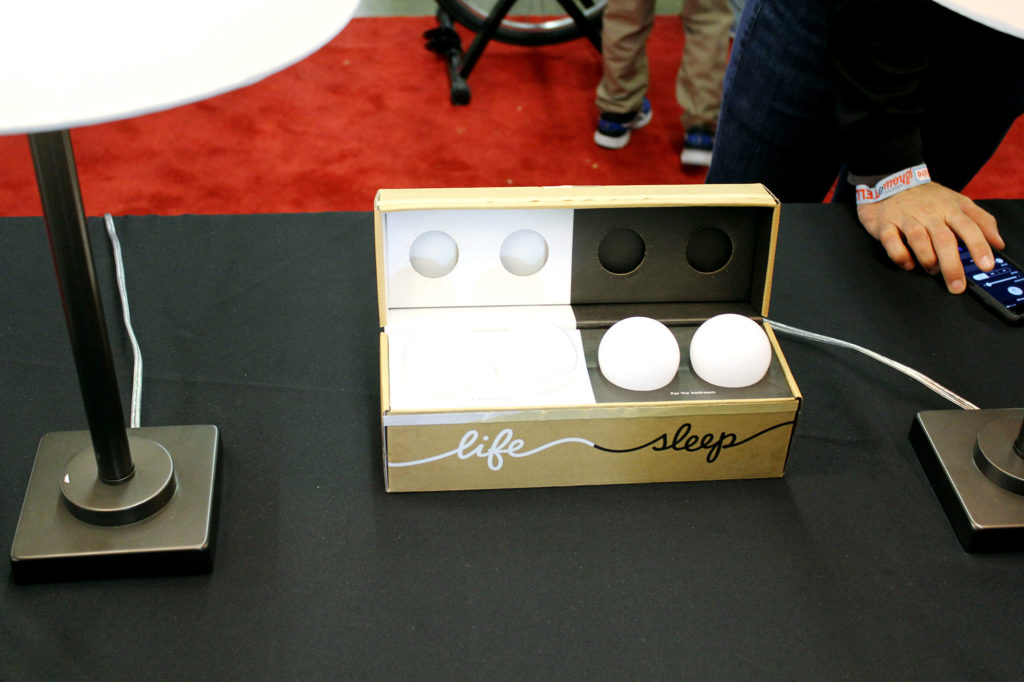 GE showed off "C" its new connected LED light bulb. The light bulb connects to your mobile device via Bluetooth and the app lets you manage of all the bulbs settings. "C" comes in two flavors: one made to accommodate every room in the house and one specifically designed for the bedroom. The starter pack will run you $70 and includes two of each (4 bulbs in total).
GE has also partnered with Make: and Hackster.io on the "Lights for Life Design Challenge." The average home has 45 light sockets and GE wants your best ideas on how to leverage these Bluetooth connected devices and bring value to the home. As stated on the contest page: "You're encouraged to consider lighting from every angle, from table and floor lamps to light bulbs and Bluetooth®-enabled devices to voice-activated illumination or lights triggered by temperature sensors."
Project submissions opened: May 20, 2016 at 8:00 AM PST
Project submissions close: July 19, 2016 at 11:59 PM PST
Winners are announced on: August 11, 2016
The first place winner receives a $25,000 cash prize, plus up to $5,000 in travel and accommodation to present at World Maker Faire NYC. Pretty sweet.
2: KineticCare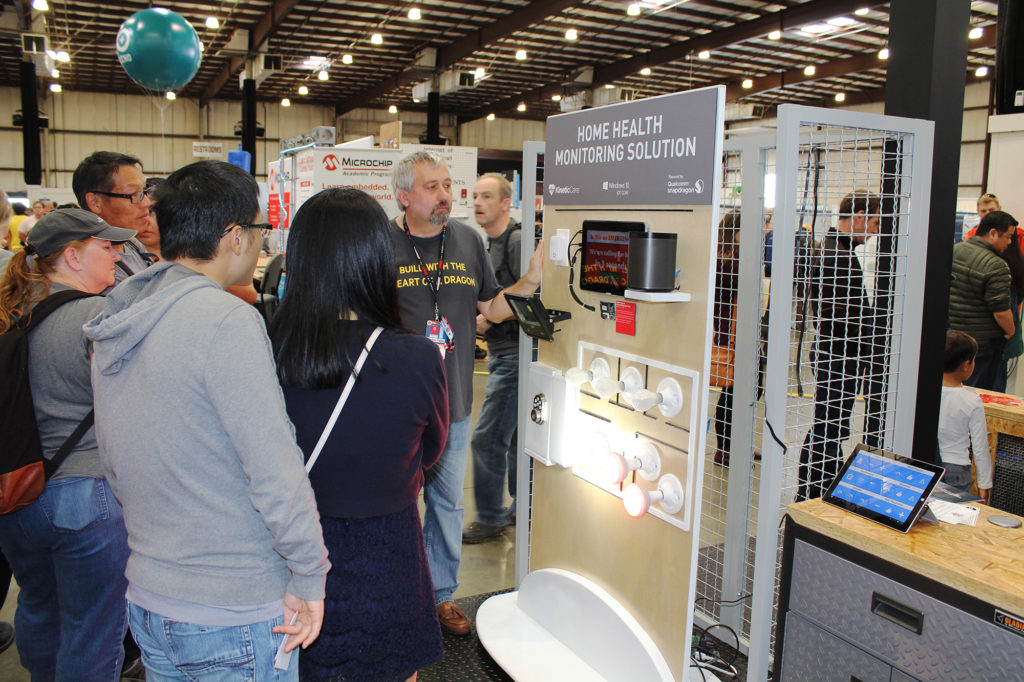 KineticCare is a home health monitoring solution that use IoT technology to monitor patients. The team aims to reduce the length of hospital stays and improve the quality of life for its users. Imagine if you have an elderly family member who lives alone and suddenly becomes incapacitated. Their wearable would immediately signal the KineticCare technology, which would immediately call for help. I love the concept and enjoyed learning more about the prototype. The technology is powered by DragonBoard 410c, IBM Bluemix and IBM Watson IoT. It's also worth noting that the KineticCare team also won the AT&T Developer Summit Hackathon grand prize back in February.
3: Togglit
Togglit is a home automation kit developed by Integreight that allows you to control regular light switches, door locks and any power connected devices. Togglit is powered by Arduino and is available for iOS and Android.
Looking to make you home smarter? Here's the product demo to learn more:
4: Department of Energy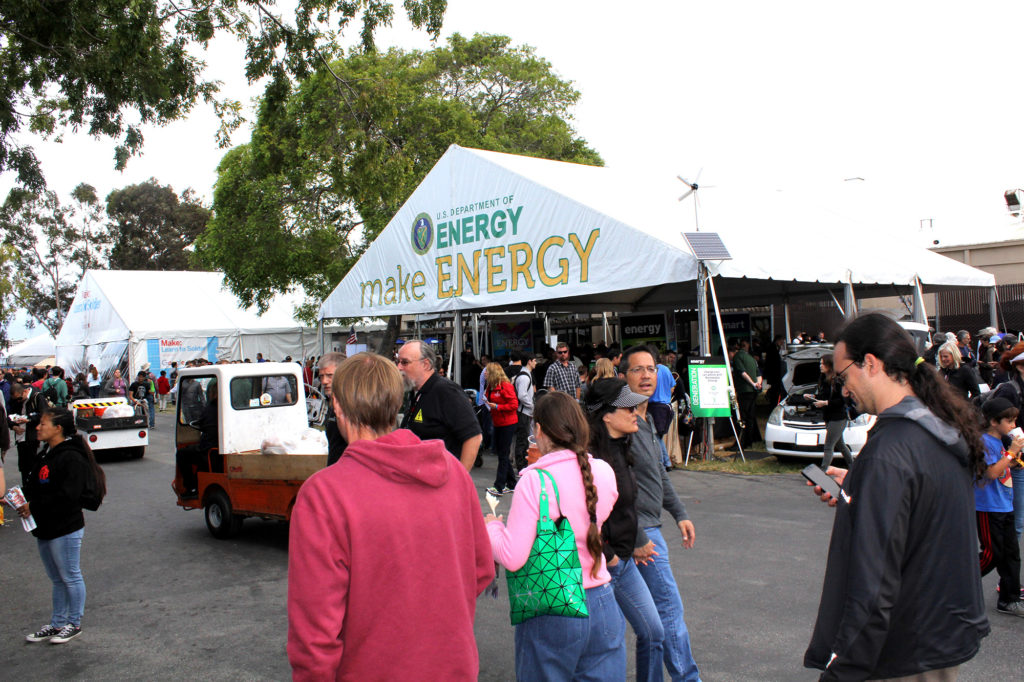 The Department of Energy (DOE) and members of the Lawrence Berkeley National Laboratory had an entire tent dedicated to energy education, sensors, connected devices and more. I demoed a really cool "sensor suitcase" that can be used in the commercial real estate space to maximize efficiency and save money. I also had the opportunity to learn about "JUMP," the DOE's latest building technology crowdsourcing platform. Reshma Singh, Program Manager of the Environmental Energy Technologies Division at the Berkeley Lab, gave me the inside scope on the program.
Here's the deal:
The JUMP program is a joint initiative comprised of 5 national laboratories. The goal is to connect innovators with industry partners. You simply join the program, browse the "calls for innovation" and submit an idea. A panel of industry judges will evaluate the ideas and select the winner. The winning idea is awarded cash prizes, technical support and the opportunity to collaborate with the labs on future endeavors. You can learn more about the current calls for innovation here.
I plan to explore these connected home devices in greater detail in the coming weeks. Stay tuned. There were so many fascinating exhibits at Maker Faire. I am already looking forward to next year. The event is truly eye candy – here are some photos I shot of the weekend. Enjoy.